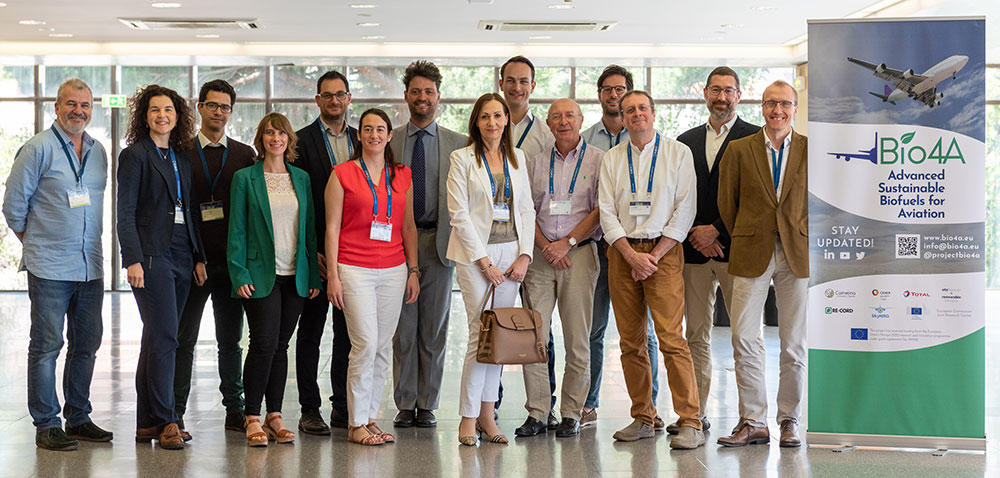 On May 30th, 2019 the partners of BIO4A H2020 Project on Sustainable Aviation Biofuels gathered for the 3rd Project Meeting at the 27th European Biomass Conference and Exhibition (EUBCE2019) in Lisbon.
The meeting was an opportunity for all the partners to discuss the latest project's tasks and to plan out the activities for the coming months.
The project will demonstrate the first large industrial-scale production and use of sustainable aviation fuel in Europe (HEFA), obtained from residual lipids such as used cooking oil. As an alternative to the waste and residual lipids feedstock path, and in order to increase soil resilience towards climate change in Southern EU/MED Countries, BIO4A will develop a dedicated R&D work on soil and sustainable crops such as Camelina, a drought-resistant oil crop, using biochar to increase soil water holding capacity and fixed Carbon in soil.
Progress on R&D Activities performed for sustainable cultivation of non-food oleaginous plants (Camelina) on marginal land in EU-MED was presented by David Chiaramonti, RE-CORD:
Co-composting of biochar with digestate, full characterization
Agronomic field trials initiated in Spain on marginal land
Soil analysis on samples from field trials initiated
Lysimeters Design of Experiment completed
RE-CORD reported also on the R&D activities performed on UCO (Used Cooking Oil) pre-treatment to contribute to and enhance the long-term supply of this feedstock and on the R&D activities on biochar production plant from woodchips and agroresidues:
Hydrolysis and non-catalytic thermochemical conversion tests performed for alternative FFA production pathway
Design and test activities on Moving bed pyrolysis reactor model adaptation and innovative concept prototype
Mechanical works on Fixed bed carbonization unit.
Moving bed carbonization unit installed, permitting phase initiated
Progress on activities of Work Package P5 has been showed by SkyNRG. The goal of this Work Package is to ensure that key findings and lessons learned in BIO4A can help scale the European biojet Industry. The scaling strategy is built on a series of task which include:
the business case of the HEFA supply chain, including key contract structures. Insights for the biojet business case, with focus on the HEFA biojet technology, are going to be collected. The business case will show the key parameters and sensitivities of a successful production capacity;
the market dynamics will review the main trends and developments in the biojet market.
At the project meeting, two working sessions were held. The first one focused on soil and marginal land for sustainable oil crop cultivation. Arwyn Jones, European Commission, Joint Research Center, presented the tasks on soil modelling, which explore the impact of the introduction of camelina and biochar in cropping systems on soil carbon fluxes/stocks, nitrogen, water budget and erosion mitigation.
The second session was on Key Performance Indicators (KPIs) related to the entire BIO4A value chain for their assessment at technological, socio-economic and environmental assessment and inputs for data screening in order to get the Life Cycle Assessment (LCA). Blanca de Ulibarri Martinez, CENER, showed the preliminary results of process comparison with other technological pathways and all partners exchanged views for planning the activities of next months.
In addition to the project meeting, BIO4A was presented in several sessions of EUBCE 2019. EUBCE is one of the most important international conferences for the biomass sector, combined with a technology exhibition. For more than 30 years, it has been serving as the annual meeting point for biomass experts from research, development and the industry. This year, a record number of more than 1700 people from 81 countries took part in the event.
 BIO4A at EUBCE 2019
on 28th May, David Chiaramonti, RE-CORD and Department of Industrial Engineering, University of Florence, Industrial Engineering Dpt. (Italy), showcased the project in the Oral Session on "Biochemical Conversion to Liquids for Industrial Applications"with the presentation: "Advanced Sustainable Biofuels for Aviation: the EU H2020 Bio4a Project"
on 29th May, the project was presented by David Chiaramonti in the Workshop "Paving the way towards clean energy and fuels in Europe", an initiative of DG RTD – European Commission in cooperation with ETIP Bioenergy, EERA (European Energy Research Alliance) and RHC (Renewable, Heating & Cooling – European Technolgy and Innovation Forum).
on 30th May, Stefano Dell'Orco, RECORD (Italy), discussed the production of biochar and COMBI (co-composted amendment made by biochar and digestate mechanically separated solid fraction from biomass anaerobic digestion) in the Oral Session on "Climate Impacts of Bioenergy" with the presentation "Production of Biochar and Co-Composting with Digestate from Biomass Anaerobic Digestion in the Bio4a-Biojet Project"
on 28th May, Stéphane Thion, TOTAL, participated in EUBCE 2019 with a speech on Sustainable Aviation Fuels (SAF) and discussed the measures needed to deliver high levels of SAF production role in order to offset the environmental impact of a fast growing aviation industry
Stay up-to date
Numerous tasks and activities are expected from the project in the next few months. If you would like to receive up-to-date news about the project, sign up to the Newsletter and follow the project on Twitter!